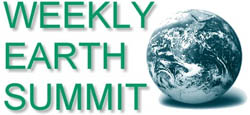 Weekly Earth Summit participants this week include:
Carl Pope: Executive Director of the Sierra Club

Jeff Miller: Center for Biological Diversity

Dave Foreman: The Rewilding Institute

Dr. Marc Bekoff: Ethologist and Author

Brita Belli: Managing Editor, eMagazine
---
Do you have something to share
on the Weekly Earth Summit?
Here's your chance to be heard around the world!
If you have a commentary, observation, event or concern related to nature or the environment, email me at wildsidenews@cox.net
Please include your name / phone number / and email.
I'll call you to talk about setting up a time to record you over the phone. It's just that easy.
We try to limit each speaker to no more than 3 minutes. I do a soft edit to remove blunders and misspeaks, so don't be shy.
You'll sound terrific.
The Weekly Earth Summit is here for you!
Send your email to: WildSideNews@cox.net

. . . then . . .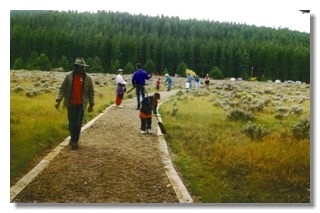 September 29, 2007
We talk with . . .
David Michael: Tahoe National Forest
where local OHV clubs will help photograph and record unique geographic features in preparation for an EIS (Environmental Impact Statement)
Russell Kaldenberg: Naval Air Weapons Station
and a unique opportunity to help restore an historic site
Michele Luna: Stewards of the Coast and Redwoods
volunteers help this Cooperating Association repair old fencing along a popular trail
National Public Lands Day is the nationís largest hands-on volunteer effort to improve and enhance the public lands Americans enjoy. In 2006, 100,000 volunteers built trails and bridges, planted trees and plants, and removed trash and invasive plants.
Join people across America for the 14th annual National Public Lands Day.
To find what's happening in your state: click here
---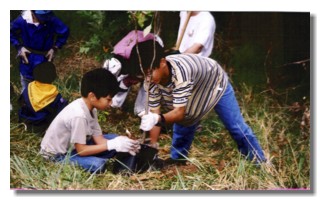 This annual event . . .
Educates Americans about critical environmental and natural resources issues and the need for shared stewardship of these valued, irreplaceable lands;

Builds partnerships between the public sector and the local community based upon mutual interests in the enhancement and restoration of America's public lands;

Improves public lands for outdoor recreation, with volunteers assisting land managers in hands-on work

---

National Public Lands Day began in 1994 with three federal agencies and 700 volunteers. Last year nearly 100,000 volunteers worked in 1,100 locations and in every state. Now, 9 federal agencies and many state and local lands participate in this annual day of caring for shared lands.

National Public Lands Day keeps the promise of the Civilian Conservation Corps, the "tree army" that worked from 1933-42 to preserve and protect America's natural heritage.