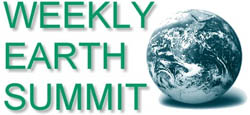 Weekly Earth Summit participants this week include:
Dr. Marc Bekoff

author and renowned ethologist

Dr. Robin D. Moore

Amphibian Specialist Group for Conservation International

Dr. Charles Kennel

Former Director of Scripps Institution of Oceanography / Member of the Pew Commission on the Oceans

Dr. Matthew Sleeth

Author of "Serve God, Save the Planet" and leading spokesman for the Creation Care Movement

Emma Sleeth: College Correspondent
---
The Weekly Earth Summit opens each show.
In 15 minutes, you will receive your own briefing on the state of the ark as interpreted by some of the pre-eminent scholars, scientists, authors, activists and spokespeople.
Be sure to listen each week, and spread the word.

. . . . then . . .
Mountaintop Removal
The New Eco-Terrorists
and their ongoing attacks on fellow Americans,
the Homeland, and our way of life.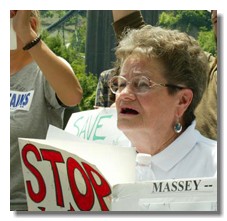 We talk with
Pauline Canterberry,
Board Member / Coal River Mountain Watch (www.crmw.net)
whose community is just one of hundreds under siege
from the terrors of mountaintop removal.
For more information on people who are fighting to save their communities visit these websites.

Ohio Valley Environmental Coalition www.OHVEC.org
Coal River Mountain Watch www.crmw.net
Appalachian Voices www.appalachianVoices.org
Sludge Safety Project www.sludgesafety.org