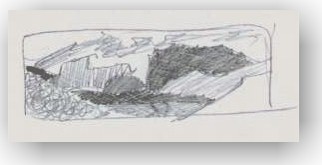 One of the most enjoyable practices you can learn is making "thumbnail sketches".
I will guide you step by step. So have pencil and paper ready.
I will be introducing you to a wealth of visual inspiration as we use MountainVisions.com panoramic landscapes.
Click here to go to the Lesson Page:
For this lesson, simply click on the link for each sketch (click here to see the picture I worked from -shrink the screen so you can see both at the same time) and see how the picture relates to the sample thumbnail sketches. You can do lots of thumbnail sketches (which you need to do to learn), so try this often. Then use the MountainVisions.com panoramas full screen and move within them until you find a composition you like, then do a thumbnail sketch. Practice, practice, practice.