Segment 2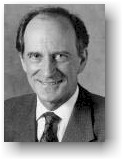 Denis Hayes . . . "so now what?"
The legendary national coordinator of the first Earth Day!
President

Denis Hayes is responsible for influencing whole arenas of change on this planet. Denis is President of the Bullitt Foundation. He was national coordinator of the first Earth Day in 1970, and remains the chair of the International Earth Day Network. During the Carter Administration, he served as Director of the National Renewable Energy Laboratory. In 1979, Denis received the national Jefferson Medal for Greatest Public Service by an Individual under 35. Hayes has also received the John Muir Award from the Sierra Club and the highest honors awarded by the National Wildlife Federation, the Humane Society, and the Interfaith Center for Corporate Responsibility. Time magazine selected Hayes as one of its Heroes of the Planet; and the National Audubon Society included him on its list of the 100 Environmental Heroes of the 20th Century. He has been profiled as "Newsmaker of the Week" by ABC News and as "Today's Person in the News" by the New York Times. The Wild Side News is honored to have Denis Hayes sharing his thoughts with our family of listeners.
---