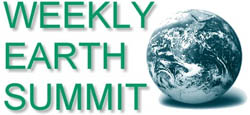 Weekly Earth Summit participants this week include:
Dr. Robin D. Moore

Amphibian Specialist Group for Conservation International

Dr. Marc Bekoff

author and renowned ethologist

Dr. Thomas Lovejoy

Director of the Heinz Center for Science, Economics and the Environment. Advisor to World Bank, Smithsonian, WWF

Carl Pope

Executive Director of the Sierra Club

Emma Sleeth: College Correspondent

Dave Foreman

author, activist, advocate, Founder: The Rewilding Institute

Dr. Charles Kennel

Former Director of Scripps Institution of Oceanography / Member of the Pew Commission on the Oceans

Dr. Matthew Sleeth

Author of "Serve God, Save the Planet" and leading spokesman for the Creation Care Movement
---
The Weekly Earth Summit opens each show.
In 15 minutes, you will receive your own briefing on the state of the ark as interpreted by some of the pre-eminent scholars, scientists, authors, activists and spokespeople.
Be sure to listen each week, and spread the word.

. . . . then . . .
Mystery Bird maintains its elusiveness.
Dr. Geoffry Hill
of Auburn University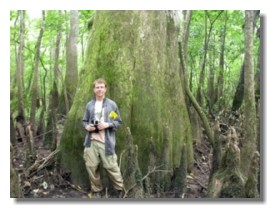 After two long seasons of field study,
has called a wrap to this year's work. He reports on his scientific effort to locate the bird that many thought had been extinct for over 40 years.
The Ivory-billed woodpecker is a most elusive and magnificent bird.
---
Brian Rolek
Next we talk with Dr. Hill's graduate student,
who just completed his second long stretch camping and searching for the Ivory-billed. He provides a wonderful insight on what is involved in doing long-term field research, reveals many of the techniques used, and where he plans to go next on this journey.
Join us for a timely and insightful journey into the heart of this significant research project.