News. . . . then

Greg Miller, President
American Hiking Society
talks about their annual
National Trails Day Celebration that will see over 1,000 events and hundreds of thousands of people helping to celebrate and preserve their favorite trails.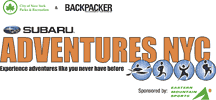 New York City is hosting the largest trails event in the nation for National Trails Day.
Joining us is Adrian Benepe, Commissioner of Parks
for the City of New York,
and Dave Kovell, with NYC Parks Department to tell us about all the amazing events this weekend happening in the Big Apple.

REI, the longest running sponsor of National Trails Day continues with over 1,000 events across the country. David Jayo of REI talks about how you and REI can have fun this National Trails Day.

Then, to get you out on that trail, we close with Michael Garcia, Ambassador for the American Hiking Society.