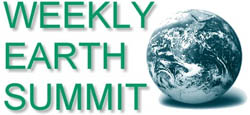 Weekly Earth Summit
participants this week include:
Dr. Marc Bekoff

author and renowned ethologist

Emma Sleeth: Asbury College

Dr. Robin D. Moore

Amphibian Specialist Group for Conservation International

Dr. Thomas Lovejoy

Director of the Heinz Center for Science, Economics and the Environment. Advisor to World Bank, Smithsonian, WWF

Dr. Charles Kennel

Former Director of Scripps Institution of Oceanography / Member of the Pew Commission on the Oceans

Dave Foreman

author, activist, advocate, Founder: The Rewilding Institute

Dr. Matthew Sleeth

Author of "Serve God, Save the Planet" and leading spokesman for the Creation Care Movement
---
The Weekly Earth Summit opens each show.
In 15 minutes, you will receive your own briefing on the state of the ark as interpreted by some of the pre-eminent scholars, scientists, authors, activists and spokespeople.
Be sure to listen each week, and spread the word.

. . . . then . . .
Whale Protest Staged by Humpback Whale Mom and Daughter!
Seek meeting with Governor Schwarzenegger
Bernadette Fees
California Game and Fish Administration
Bernadette has been on site following the fate of Delta and Dawn and brings us the story of the wayward whales whichare holding the country and the world in hope-filled suspense.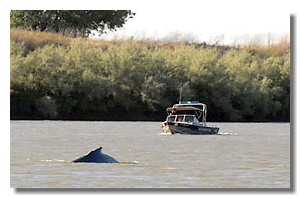 Rich Pedroncelli / AP