Thursday, May 12th, 2005 www.wildsidenews.com
Here go our National Forests . . . . Again!
Following the News, we look at the changes in regulations that have been protecting our National Forests from roads as we talk with Michael Francis (The Wilderness Society) and Mike Leahy (Defenders of Wildlife) about the sudden regulatory changes announced by the Bush administration, and what such will mean to the future or our nation's forests and wildlife.
Watching the Cleantech Economy
Then in Segment 2 . . . Today, we talk with Rob Wilder, President of the Wilderhill Index, which tracks clean energy stocks the way the Dow Jones does industrials.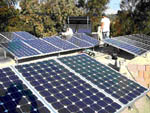 Living the Solar Life
And in Segment 3: Rob Wilder lives with a passion for the earth, and is powering his 2,400 square foot home the new fashioned way, by the sun. We see what it's like to live off the sun in the splendors of southern California.

Click here to listen to the entire show without interruptions.
Listen anytime on the Archives Or listen to individual segments below

---