Thursday, 05/05/05 www.wildsidenews.com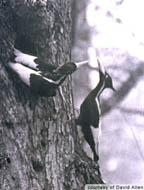 The Miracle of the Ivory-Billed Woodpecker
When you refer to your birding field guide, if the Ivory-Billed Woodpecker is even listed, there is usually a reference to its likely being extinct. WRONG!!!!!
Having last been seen in 1944, 60 years ago, that's what everyone assumed, that is until a series of chance events led to the discovery that the Ivory-Billed Woodpecker LIVES! This is a phenomenal story.
Listen anytime on the Archives

Click here to listen to the entire show without interruptions.
News. . . then . .
Rob Hart, "Chair"man
of Crazy Creek Products talks about the great gear and especially his new Crib LEX Lightweight Hammock with UltraLite Tarp

Crazy Creek Products, Inc.
PO Box 1050
1401 South Broadway
Red Lodge, MT 59068
800-331-0304 (Toll Free)
406-446-3446 (Voice)
406-446-1411 (Fax)
Dr. John Fitzpatrick:
Dr. Fitzpatrick has been involved in the search for and verification of the long-lost Ivory-Billed Woodpecker for the past year. Kept very secret, the efforts, which involved dozens of dedicated scientists and volunteers, finally paid off.
For a wonderful collection of links and the full story, click on this
And a special short about a plant that kindly provides a "perch" for birds to use while sipping its nectar.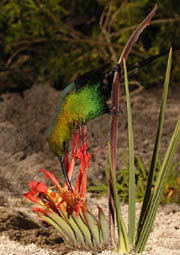 Photo Courtesy University of Toronto