Segment 1 www.wildsidenews.com
News. . . then . . .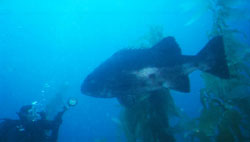 "Blackie is Dead!"
We talk with Rod Watkins of Scuba San Diego
This week, a scuba diver used his spear gun to kill a giant black sea bass in the La Jolla Cove Preserve. "Blackie" was one of the legendary giants that divers had known for years. This protected fish had thrilled thousands of underwater enthusiasts. He was gregarious, friendly and is now missed. We bring you this tribute to a fish known as Blackie.
photo copyright Steve Gardner
---

Segment 2 www.wildsidenews.com

Is this the end of the Toklat Wolves of Denali National Park?
We talk with Dr. Gordon C. Haber, Independent Wildlife Scientist who has been studying wolves and wolf prey systems for 40 years and the Toklat wolves since 1966.
In another story of the killing of a legendary animal friend, this last week, the alpha male of the historic Toklat wolf pack was shot as he stepped outside the legal boundaries set up to help protect the wolves of Denali National Park in Alaska. This follows on the death of his mate and may mean the end of one of the longest and most notable wolf research projects, and the joy and wonder the Toklat wolves have provided to thousands of visitors who got the chance to get up close to this pack that did not really fear humans. That legacy may have died with the death of the pack's last alpha members. As Alaska advances its taking of wolves with aerial hunting and trapping at the boundaries, it perhaps is another chapter in the advancing "War on Wonder."
photo copyright Friends of Animals

www.friendsofanimals.org
---

Segment 3 www.wildsidenews.com,
Our discussion with Dr. Haber continues as we further explore
"The Wonders of the Toklat Wolves"
---
And please enjoy our new Wild Side News Stores and support the Wild Side News. Thanks. SW