News . . .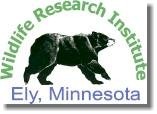 Then . . .
Katrina update
Daryl Malek-Wiley
Sierra Club
Reporting from New Orleans
Daryl Malek-Wiley has been with the Sierra Club for years, working from the New Orleans and Baton Rouge offices. Daryl gave us a field report within days of the Katrina disaster, focusing on the flooding, the contamination and the outlook at that time. Meanwhile, he did not even know if his own home was still standing.
He returned, after months away, to check out what was happening in his neighborhood. Since he's been back, he has focused his expertise on two neighborhoods dramatically impacted by the storm.
Daryl Malek-Wiley Continues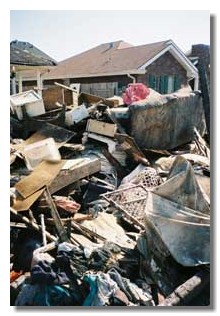 Daryl continues his report from the field, about what life is like now, as residents struggle to make sense of their options for restoring their lives in New Orleans.

Moving Back Home?
Dr. Gina Solomon
Sr. Scientist / NRDC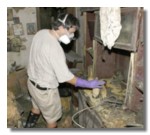 Following extensive scientific studies on the environmental conditions that people face when considering moving back into their homes and neighborhoods, Dr. Solomon discusses the toxins in the surface sediments and the existence of serious levels of mold in homes that will need to be either torn down or rebuilt.
Is it safe? Find out from the experts.