News . . . . then . . .
Jack Sterne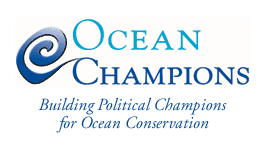 OceanChampions.org believes that a very important key to the future of our oceans is helping to identify and support "Ocean Champions" . . . those who will carry the banner into the halls of power to forge ocean protections that matter.
H. Bruce Franklin
Menhaden

What kind of world is it that permits a family-owned business to drive a legacy fish species out of existence, particularly when it has been turned into fertilizer, pig feed and lipstick oils and is not a source of food? It's the story of the Menhaden.

Segment 3
Christina Reed
Reporting on Science and the Oceans
Science was once the champion of reason and truth. But the "facts" now are spun into talking points and subject to interpretation.
As the oceans face such daunting challenges, can science writing continue to inform the public of the urgent need for change?