News . . . . Then , , , ,
Let's talk about 2008

Sidney Wildesmith
To Bee or Not To Bee
Where have all the honey bees gone?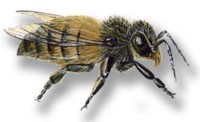 Troy Fore
Executive Director

American Beekeeping Federation

Wake Up Calls
from Endangered Species
Jeff Miller
Conservation Advocate

With increasing evidence that literally thousands of animal species seem destined for extinction, where can you go to learn about the challenges and the opportunities? What can you do?
You might wish to begin by learning how you can collect your own endangered species ringtones for your cellphones.
They're free!
It's easy and it's fun!