News . . . . then . . .
Monterey Bay Aquarium, ranked among the top aquariums in the world, knows a lot about fish and the oceans. The studies keep coming in that the oceans are in trouble. Are we helpless to make a difference, or is there something we can do?
Ken Peterson
of the Monterey Bay Aquarium talks about the future of oceans, and how you can make the wise choices next time you think about eating from the oceans' bounty.
Visit their website:
Monterey Bay Aquarium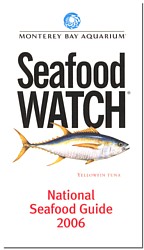 Use the National Seafood Guide to make the right choice for the health of the oceans and for a healthy life. Here's a pocket guide to help.
To get yours FREE!
and to learn about many more ways to become involved, click www.seafoodwatch.org

Segment 3
9 miles north of Lone Pine, CA
Frank Hays: Superintendent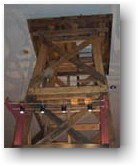 We hear each day about what can happen when government concerns for national security become driven by war. It has happened before, and we visit a place that now enshrines that legacy.
Manzanar was the first of ten war relocation centers. In operation from April 1942 through November 1945, it was the largest wartime "city" between Los Angeles and Reno. Manzanar National Historic Site tells the stories of the relocation of nearly 120,000 Japanese Americans during World War II and of the people and cultures who came before.